• Months of inactivity while in a relationship caused Erik Bojorquez's weight to climb steadily, topping out at nearly 250 pounds.
• After trying Zumba and HIIT classes, he landed on an app run by the trainer Jillian Michaels that helped him start being active again.
• Since committing to the new workout routine and a healthier plant-based diet, Bojorquez has lost more than 70 pounds in under a year.
Erik Bojorquez was tired of people saying he'd put on weight. The now 24-year-old laboratory technologist from Los Alamos, New Mexico, had long been overweight, but when he went off to college he got into a relationship that de-motivated him when it came to physical activity. He was comfortable—even as, while burning few calories and eating terribly, Bojorquez watched his weight creep up.
By age 21, he tipped the scales at a hefty 245 pounds on a 5'9" frame. Not only did people comment about his weight, but people who knew him only by his online profile pictures wouldn't recognize him when they met in person. It was incredibly demoralizing. "My self esteem was very low at that point," he says, "and I found myself very vulnerable and sensitive to people's opinions."
He resolved to change his life. There were a few early misfires—he tried HerbaLife and the Atkins diet, and those "fat burner" supplements in hopes they would help him lose weight. But he wasn't working out. Then he tried a Zumba class. Walking out afterward, he felt fully re-energized. He went looking for a way to repeat that feeling.
On YouTube, he found a free Jillian Michaels HIIT (High Intensity Interval Training) video. He followed that for a couple months, and even though he hadn't changed his diet, he lost five pounds in the first two months. His clothes fit and felt different.
By then, the videos were no longer free on YouTube. He transitioned to the My Fitness by Jillian Michaels app, starting with a "Fitness for Beginners" routine that included a meal plan. "I lost about 15 pounds from that program while following a meal plan that was more lenient," he says. He further refined his meal plan and exercise, shedding another 25 pounds. Finally, he began a plant-based diet and lost another 35 pounds. In less than a year, he'd lost 75 pounds.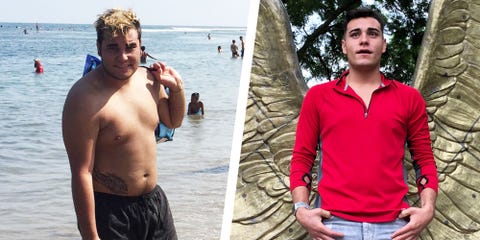 Erik Bojorquez
The change was profound: Bojorquez worked in a restaurant while he was losing weight, and concerned customers asked if he was ill. (Some of them then asked him for dieting tips.) He shocked his family when he went home at Thanksgiving having shed so much weight.
Not all the change was physical. Dropping the pounds made Bojorquez feel more clear headed, too. "My overall university performance improved and I definitely gained my confidence back," he says. "Through the process, I learned that you have to love yourself before you are able to love anybody else, and I started making myself a priority."
He wants to spread that kind of thinking—he's looking to become a certified wellness coach. "I enjoy when people have a positive self image," he says. "I love to make everyone feel welcome and remind them how valuable they are." For people who might be struggling with feel self-conscious because of their bodies, he says recognize that it's a process, and celebrate even modest gains. "Set realistic goals and be proud of every single pound lost or gained!"
Source: Read Full Article