Powerful things can happen when clinicians and researchers listen to patients ― that's the main takeaway message from a recent viral Twitter thread that was repeatedly described as "amazing," "incredible," "beautiful," and "inspiring" by readers, including many healthcare professionals.
The 15-part tweet thread tells a story from nearly 20 years ago of what may be an unprecedented event in oncology: a patient-conceived clinical trial. The study set out to evaluate reducing the dose of a drug with notorious toxicity, but unexpectedly ended up saving lives.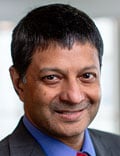 Dr Vincent Rajkumar
"The result was wilder than anyone could have imagined," sums up trial investigator Vincent Rajkumar, MD, of the Mayo Clinic, Rochester, Minnesota, in comments to Medscape Medical News.
Rajkumar, an expert in the treatment of multiple myeloma, recalls how in the early 2000s, there was an upswing in the development of new drugs for the incurable blood cancer.
In 2002, he had just completed a clinical trial demonstrating that thalidomide, infamous for causing birth defects, was significantly effective as initial treatment in early-stage multiple myeloma.
Those results were subsequently used to secure US Food and Drug Administration approval of thalidomide for myeloma. It was the first new drug that showed single-agent efficacy for myeloma in three decades.
"As a young investigator, I was thrilled with the success and eager for the next exciting trial testing fancy new regimens," Rajkumar writes in the Twitter thread.
Mike Katz
"But a patient with myeloma, Mike Katz, had other ideas," he continues.
Katz "had battled myeloma for years and knew all of the recent advances. More importantly he attended numerous patient support group meetings and had his finger on the pulse of what myeloma patients were going through," Rajkumar writes.
A New York City resident, Katz served as the patient advocate on the Eastern Cooperative Oncology Group's (ECOG's) myeloma committee, part of the clinical trials network of the National Cancer Institute (NCI).
Katz, who died of the disease 6 years ago, "was just trying to survive" in addition to doing the selfless work of an advocate, which became "a mission," says his son, Jason.
The Next Big Trial
In 2002, the ECOG committee, including Katz and Rajkumar, gathered and considered ideas for their next big trial.
Rajkumar recalls that "while docs talked about creating 'exciting' combinations, Mike said, 'Listen, what patients really want is freedom from the side effects of dexamethasone. All these new drugs don't help if patients cannot take them. You guys are giving too much dexamethasone. And people are suffering,' " he said.
At the time, myeloma patients were regularly treated with high-dose dexamethasone in regimens of nearly 500 mg monthly.
The side effects of the steroid include blood clots as well as a long list of physical and mental symptoms, such as blurred vision, weight gain, agitation, irritability, and mood changes.
David Mitchell, of Bethesda, Maryland, who has had myeloma for more than 10 years, relates how the steroid feels at high doses. "You get a big steroid ride and you feel great. But then you crash. You can't sleep at all and it starts to mess with your mind."
Mitchell describes "crying jags, deep fits of depression and the jitters…. It was bad. It was ugly. I was doing things like yelling at the dog. I thought I was going crazy."
Then, in a moment of desperation, he called a myeloma hotline, where a nurse asked him: "Has anyone told you about dexamethasone psychosis?"
Mood-related side effects also dogged Mike Katz, says his son. "Steroids took a toll on him," Jason comments about his father. "At times, it was awful. He really got on edge."
Mitchell, who is founder of the nonprofit organization, Patients for Affordable Drugs, summarizes the "dex" experience: "Everyone hates it."
Important Component of Therapy?
Rajkumar explains that for myeloma, dexamethasone was administered at high doses to kill cancer cells: "It was an important component of therapy."
But at the ECOG committee meeting, "Mike disagreed," he adds.
Katz explained his thinking to the committee: "You are giving dexamethasone at a high dose on the basis that this is how it has always been done. Please run a trial and see if in the era of new drugs you still need such high doses of dexamethasone."
Committee members were "skeptical" about Katz's vision, says Rajkumar.
"But Mike was not going to give up," he adds.
"[Mike] insisted we do a randomized trial of high dose dexamethasone versus low dose dexamethasone. To us the idea seemed destined to fail. It seemed so boring. We had waited 40 years for new drugs and Mike wants us to test Dex dosing!" writes Rajkumar in one of his tweets.
But Katz, who had an MBA and worked as a management consultant, was calm, convincing, and fearless, Rajkumar says.
"We respected Mike. We knew he was aware of what patients were going through. We saw 100-200 myeloma patients a year. He interacted with thousands," he writes.
The committee eventually convinced the NCI and ECOG leadership that testing to determine the optimal dose of dexamethasone was "the most important publicly funded randomized trial…. It wasn't easy. But we got it approved," says Rajkumar.
The gambit was quickly vindicated: the trial accrued patients faster than any myeloma trial ever among national cooperative groups.
A Stunning Result
The trial to test high-dose vs low-dose dexamethasone was designed as a noninferiority study with an expected benefit of reduced adverse events. But it produced a stunning surprise and was stopped early.
"Deaths with high-dose dexamethasone (control, standard of care arm) were significantly higher than with low-dose dexamethasone!" Rajkumar declares in the Twitter thread.
"We had hypothesized that by using low-dose dexamethasone we would have less toxicity and similar efficacy. Little did we know that just a change in Dex dose would save lots of lives: At one year 96% were alive with low dose Dex versus 87% with high dose standard of care Dex," he continues.
The 2-year overall survival rate was even more impressive: 87% with low-dose, vs 75% with high-dose dexamethasone.
In addition, all serious side effects, including blood clots, infections, and fatigue, were reduced with low-dose dexamethasone.
In the pivotal trial, patients in the high-dose group received dexamethasone 40 mg on days 1–4, 9–12, and 17–20 of a 28-day cycle (total, 480 mg); patients in the low-dose group received dexamethasone 40 mg on days 1, 8, 15, and 22 of a 28-day cycle (total dose, 160 mg).
Both arms of the study included lenalidomide (Revlimid) 25 mg on days 1–21 of the cycle. An analogue of thalidomide, lenalidomide was still experimental in 2002. It would go onto become a billion-dollar-a-year drug for its maker, Celgene.
Lenalidomide plus low-dose dexamethasone is now the backbone of most myeloma regimens, points out Rajkumar. "The lower dose of Dex has allowed us to build many 3-4 drug combinations. We are indebted to Mike. We grieve his loss," he adds.
Katz's "legacy and work…endures," says Rajkumar, who notes that the trial, published in The Lancet Oncology in 2010, is one of the most cited myeloma articles ever.
The American Society of Clinical Oncology honored Katz in 2014 with the Partners in Progress Award at the group's annual meeting. Son Jason says it was "one of the greatest achievements of his life."
Myeloma patient Mitchell says he "owes a great debt of gratitude" to Katz.
Ten years ago, after learning about dexamethasone psychosis, Mitchell contacted his oncologist, who had just read about the trial results. He cut Mitchell's dosage immediately.
"I literally benefitted from this man's effort…. This was a huge thing because it dramatically affected my quality of life," comments Mitchell, who is now on a low-dose regimen (18 mg weekly) of the steroid, along with three other drugs.
Listening to Patients
Last month, Rajkumar's Twitter thread about this story was a viral hit, with 305,000 impressions (the number of people who saw the initial tweet), 4000 likes, 1100 retweets, and 430 comments.
"Dr Rajkumar is a great storyteller," says Jason Katz.
"This story is amazing. And dex is the worst," tweeted Lianne Kraemer, who lives with metastatic breast cancer and is a patient advocate. Many other people also described the story as "amazing," including David Lewis, MD, of Brown University, in Providence Rhode Island, Marclebio Dourado, MD, PhD, of the University of Pernambuco, in Receife, Brazil, and Suzie Peat, MD, of the National Health Service in the United Kingdom.
Many readers emphasized the importance of listening to patients. "Truly powerful. Listening to patients and their advocates leads to advances and patient centered care," tweeted Benjamin Parsons, MD, of Gunderson Health System, in La Crosse, Wisconsin.
"I give a lot of credit to these doctors for listening," says Mitchell.
Others encouraged the practice of medicine to continue to evolve toward the patient experience. "It is REALLY time that we woke up to Patient Reported Outcome Measures, Patient Experience of Care," tweeted Tejal Lathia, MD, of BYL Nair Charitable Hospital, Mumbai, India.
The NCI facilitates patient and patient advocate involvement in clinical trials development. Every NCI-funded cooperative group, including ECOG, has its own patient advocate committee.
At the SWOG Cancer Research Network, "patient advocates weigh in on every trial as it is developed and executed," says Wendy Lawton, the group's director of media relations. The network has 28 advocates, including five people of color, a military veteran, and two adolescent and young adult advocates.
Rick Bangs, SWOG patient advocate chair and a bladder and prostate cancer survivor from Pittsford, New York, says advocates have modified study designs through requests such as removing placebo arms, adding excluded subpopulations, and reducing doses.
Nevertheless, the fact that cancer patient Mike Katz conceived of the low-dose dexamethasone trial may be unique in oncology research.
"You can make discoveries if you listen," says Rajkumar.
Rajkumar, Mitchell, and Jason Katz have disclosed no relevant financial relationships.
Nick Mulcahy is an award-winning senior journalist for Medscape. He previously freelanced for HealthDay and MedPageToday and had bylines in WashingtonPost.com, MSNBC, and Yahoo. Email: [email protected] and on Twitter: @MulcahyNick.
For more from Medscape Oncology, join us on Twitter and Facebook.
Source: Read Full Article