While the rest of us spend September pining Labor Day's symbolic end to the summer season, Ruben Boyajian, MD, is thinking about Christmas, or gingerbread houses, to be precise.
By day, Boyajian is an MD Anderson Cancer Network-certified physician, specializing in breast cancer, breast ultrasound, and surgical oncology at Pine Medical Center in Effingham, Illinois. But, from September 1 through Thanksgiving Day, Boyajian dedicates his evenings and weekends to constructing mammoth gingerbread vignettes with surgical precision.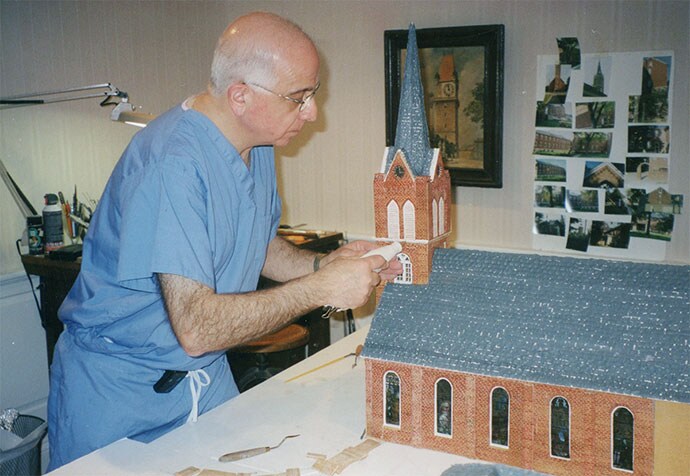 Boyajian deftly constructs the steeple of the St. Francis of Assi Catholic Church with royal icing.
Originating in Germany during the 16th century and rising to prominence with the Brothers Grimm fairy tale, "Hansel and Gretel," some 300 years later, the baking and decoration of lebkuchenhaeusle, or gingerbread houses, is a familiar holiday experience for many families around the world.
Today, while prepackaged A-frame houses are often de rigueur, over 100 gingerbread aficionados gather in Asheville, North Carolina, each November for the biggest domestic celebration of gingerbread, the National Gingerbread Competition. Held at the Omni Grove Park Inn, a historic, arts and crafts resort, gingerbread-esque with its red, shingled roof and rough-cut granite boulder façade, bakers from across the Western Hemisphere convene for the show, judged by James Beard Award–winning chefs, Metropolitan Museum of Art curators, and executive pastry chefs from the Grove Park Inn and nearby Biltmore Estate. Over $25,000 in prizes and pastry lessons at Nicholas Lodge's Sugar Arts Collection in Atlanta, Georgia, are doled out for extravagant contestant submissions judged on precision, complexity, and creativity.
No matter if you eagerly display your inner artist with painstaking details or simply look forward to sneaking extra candy during the construction process, Boyajian believes gingerbread offers something magical for everyone.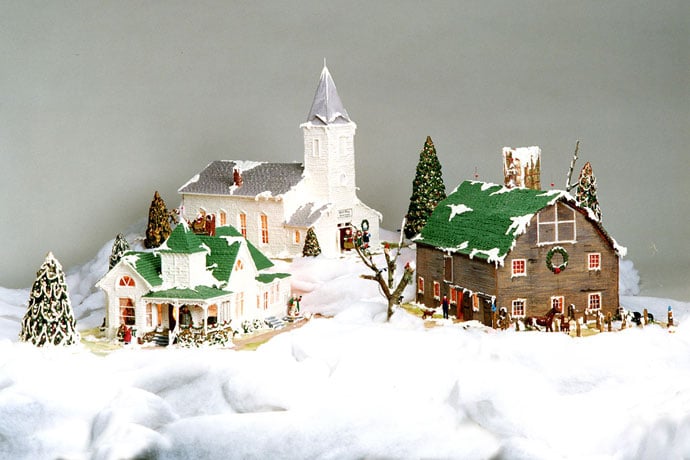 A Christmas-themed country scene made entirely from icing and gingerbread.
"I find it attractive that they are not permanent structures. It is a humbling lesson to learn that nothing is permanent. So, savor the views and company. Even if it is not perfect, it is attractive," Boyajian says.
A Family Foundation in Gingerbread
He first discovered the enchanting confectionery creations as a young boy in Montevideo, Uruguay, where he was raised by Armenian refugee parents, Jacob and Isabel. For young Ruben, "Christmas was a painful time. Things were expensive, so from age 8, I became the decorator of the house," he said. Jacob Boyajian, a tailor, built a kid-sized table in the back of his haberdashery for his youngest son, and here, Ruben Boyajian also crafted wooden ships and toy boats — Christmas toys — for himself.
To festoon their home, Ruben Boyajian worked with his mother, Isabel Boyajian, creating his own miniature confectionary worlds, inspired by pricey Christmas displays he saw in store windows. "I was fascinated by the shops with little Christmas villages and bakers with decorated gingerbread. It was like a dream world," the surgeon told Medscape Medical News.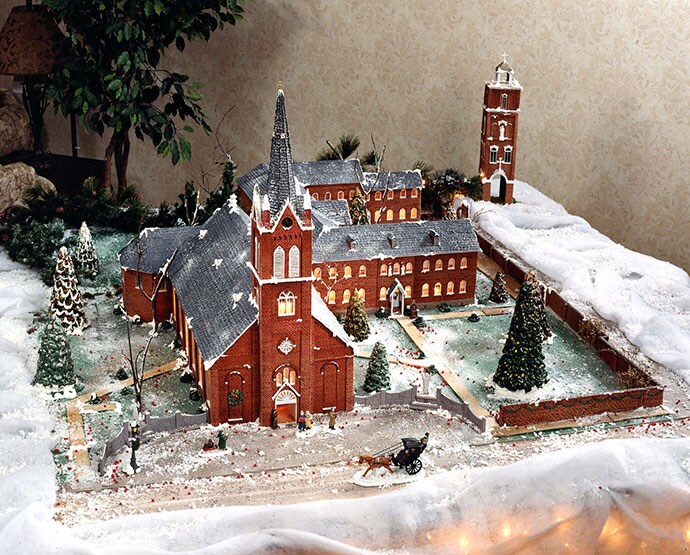 The St. Francis Church and Monastery gingerbread recreation is imbued with whimsy and holiday cheer.
The pair fashioned sheets of walls and roofs, learning to ice them in chromatic color schemes, a tradition he continued as a young medical resident in New Haven, Connecticut, and later at Sheppard Air Force Base, where he was stationed for several years.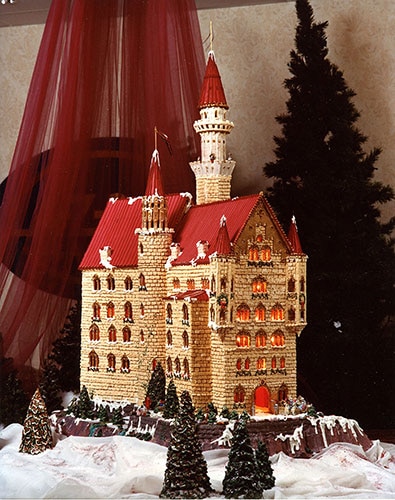 An incredible replica of Germany's Neuschwanstein Castle.
With each passing year, the gingerbread structures' complexity and size grew along with their reputation, becoming a community staple beginning in 1989, when he produced one "fantasy cottage" for his family and another for a lucky neighbor. A few years later, one impressed recipient "blew the whistle" on Ruben's secret craft, alerting the local newspaper to the surgeon's confectionery specialty. "I was blown away!" says Boyajian about the community's response to his craft.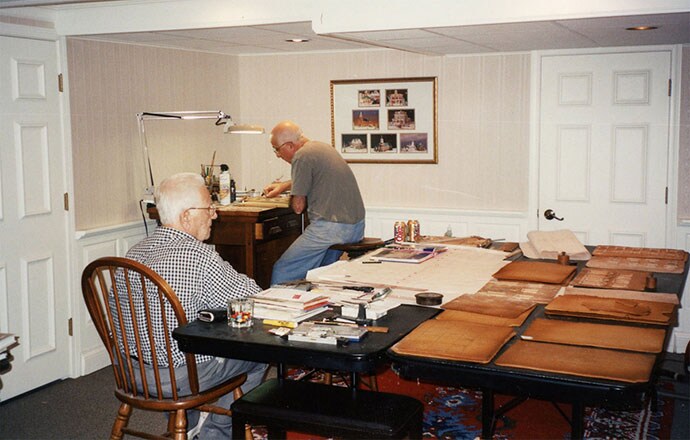 These gingerbread masterpieces wouldn't be possible without the support of Boyajian's friends and family.
The press release brought with it requests for larger architectural models to be housed at Effingham's Ramada Inn, owned by friends of the Boyajians, cementing Ruben's reputation as a gingerbread architect specializing in local historical and religious landmarks. "I have a passion for the preservation of culture and history," says Boyajian, an active member of the Effingham County and National Road Museum Association. "We must preserve the signature buildings from the past that make our community special," he told the Herald&Review. "We do not need towns of just fast-food restaurants and strip malls where everything looks the same."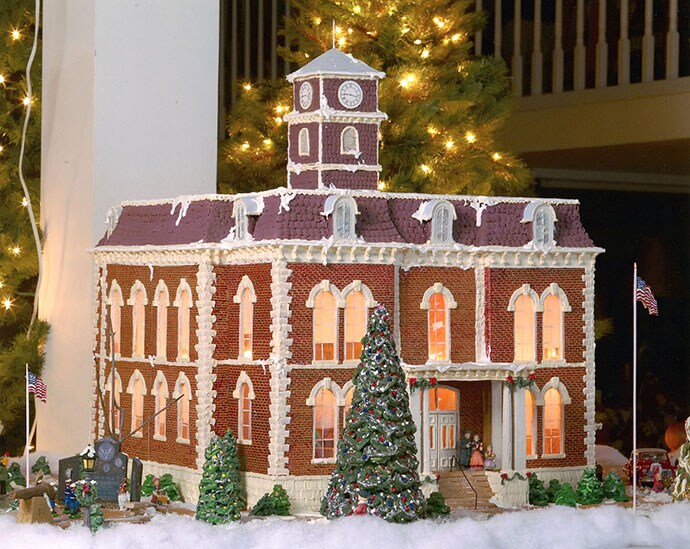 Boyajian's interpretation of the historical Effingham County courthouse.
To construct realistic models of these structures, Ruben needed a partner with a shared passion for historic preservation and technological ability. Ed Baumgarten, a photographer and former contractor, was an eager participant, offering his photography and AutoCAD skills to create scale templates and floor plan drawings for Ruben's work. "He wanted it to be right, to be exact," says Baumgarten of the complex buildings requiring his scale drawings. "It is like surgery; you do not want to guess."
Emily, Boyajian's wife, works alongside her husband to help bring these gingerbread creations to life.
With drawings in hand, Boyajian and his family ― wife Emily and sons Ruben Jr, Michael, and Jacob ― get busy baking numerous sheets of gingerbread — longer for dark bricks and shorter stints in the oven for curved walls and blonde buildings. "I developed a construction technique, using gingerbread as drywall for mass production," explains Boyajian. "I cut [the sheets] with a Dremel tool. This way I am able to cut the windows and doors." With gingerbread 2 x 4's framing the structure atop a foam-core foundation, the doctor hangs walls and roofs with copious amounts of royal icing evenly spread across the frames. "Once it dries, it is a very solid structure that can take a lot of stress."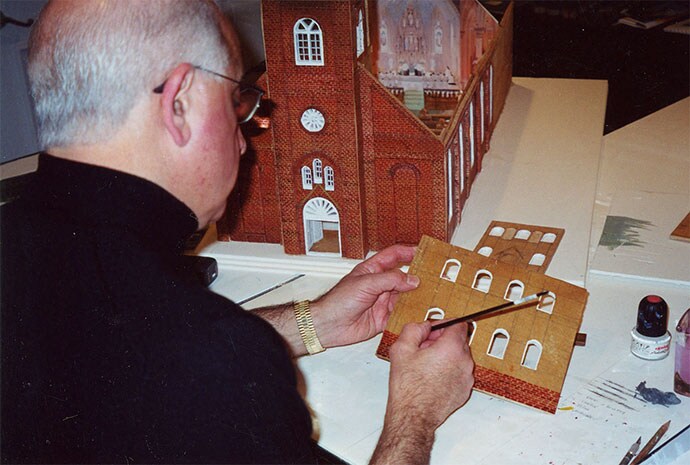 When crafting elaborate gingerbread houses, precision and accuracy are just as important as creativity.
Once the exterior is solid, Boyajian turns his focus to the interior and exterior details, carefully examining photographs of his subjects, his skillful fingers deftly painting 10,000 red bricks, shingled roofs, and historic wallpapers with liquid icing.
Beyond the buildings, Boyajian incorporates Christmas lights, human and animal figurines, and festive flowers and trees. "The Christmas trees are real, and they grow," jokes the surgeon of the trees to which he adds a layer of icing each year, adding to the magic of each village. "I have some that are 30 years old. It is amazing."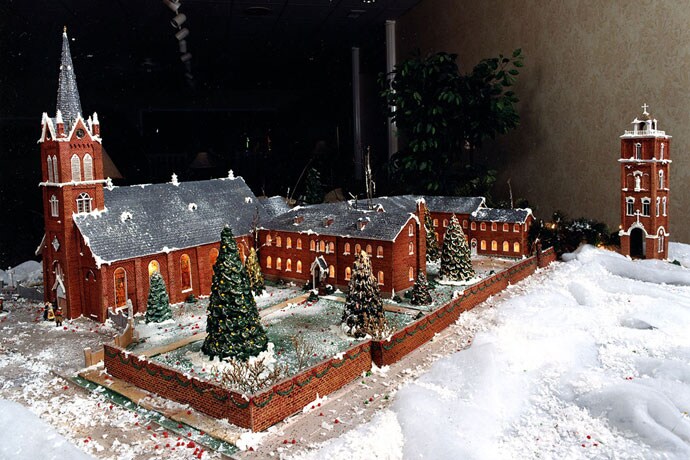 Boyajian's "living" Christmas trees adorn the landscape of the St. Francis Church gingerbread house.
Over the past three decades, the surgeon has modeled many of his favorite buildings, including the Italianate home of Charles M. Wright, MD, in Altamont, Illinois, St. Francis Church in Teutopolis, Illinois, and the White House.
Inspired by the unity displayed after the attacks of September 11, 2001, Boyajian spent over 300 hours replicating the presidential residence, complete with glowing windows and Christmas decorations. To his great surprise, First Lady Laura Bush and President George W. Bush mailed the surgeon a letter thanking him for his creation after a senator snuck the First Couple images of the building — a dream come true for the first-generation immigrant and his father, who became a United States citizen at age 95, just months before the attacks.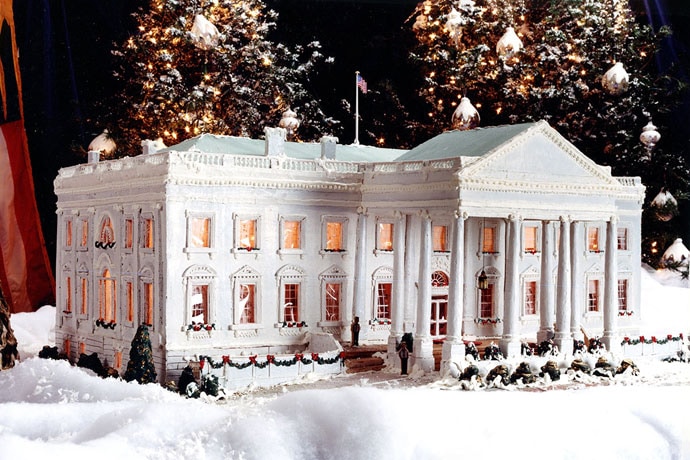 Boyajian spent over 300 hours finessing his recreation of the White House, earning the thanks of First Lady Laura Bush and President George W. Bush.
In 2020, with COVID-19 lockdowns and social distancing restrictions limiting public gatherings and opportunities to share his work with the public, the surgeon was forced to pause. Unwilling to sit still, Boyajian used this unexpected downtime to dream up another project of equally impressive scale — three 10-foot mosaic arches for the prayer chapel hallway at his hospital, St. Anthony's Memorial Hospital.
The three works, each composed of some 15,000 hand-glazed tiles from Italy, depict St. Francis' prayer, "Canticle of the Sun," including imagery of St. Francis' Basilica, nature scenes, and the hospital's history, turning a once ordinary hallway into a veritable work of art.
Begun in 2018 and expected to wrap at the beginning of 2022, Boyajian says he will take a few months to rest before commencing his time-consuming gingerbread creations and theater set design projects once again. "When I look back, I wonder, 'How did you do this?' " Boyajian says of the immense time spent crafting his houses on numerous weekends and weeknights.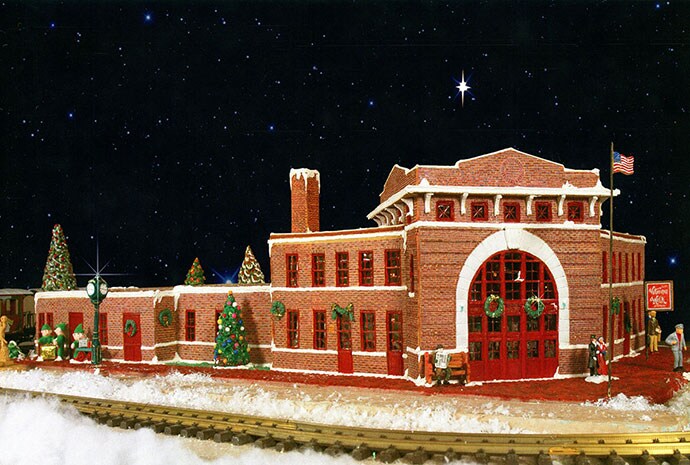 Boyajian honors the history of his state by recreating prominent buildings, like the Flora Depot in Flora, Illinois.
When asked if he would consider sharing his work at the National Gingerbread Competition in the future, the surgeon simply laughs, "Maybe I should."
Preferring to hone his craft in his basement workshop, unconcerned with prestige and prominence, Boyajian keeps his focus on the community for which he cares, the people for whom he bakes his gingerbread. "The love he puts into these things is incredible," says Baumgarten of the surgeon's confectionery dedication, an earnestness that has earned him the love and respect of the town. "He is probably the most beloved person in the Effingham community."
It is this very spirit of love and generosity that excites Boyajian for the holiday season, "It is time for meditation, family events, and sharing with others," he says. "The idea of giving is what motivates me," Boyajian said in another interview. "I suppose I am kind of an idealist."
DIY Gingerbread
Eager to build your own gingerbread creation? Do it yourself with this colorful, premade kit, a festive dive bar creation from Miller High Life, or by following Ruben Boyajian's favorite recipe:
Gingerbread
1 tbsp butter, softened
6 cups all-purpose flour
6 tbsp baking powder
½ tsp ground cinnamon
½ tsp ground cloves
¼ tsp ground nutmeg
¼ tsp ground ginger
¼ tsp Allspice
¾ cup honey
1 ¾ cup sugar
¼ cup butter
1/3 cup lemon juice
1 egg
1 egg yolk
Icing
2 egg whites
2 cups powdered sugar
Directions
In a heavy saucepan, mix sugar, honey, and butter. Bring to a boil. Remove from heat and add lemon juice (caution: mixture will expand). Cool to room temperature. In a bowl, mix dry ingredients i.e., flour, baking powder, cinnamon, cloves, ginger, nutmeg, and Allspice. Pour in sugar—honey—butter—lemon juice mixture. Add egg and egg yolk; mix well (knead). Roll out to desired thickness in (2) greased 10×13 inch sheets.
Bake at 325° F until golden (about 10–15 minutes). Cut desired shape while bread is warm.
Beat icing mixture until creamy and thick.
Assemble structure, using icing as mortar and, of course, decoration. Add candy at will.
For more news, follow Medscape on Facebook, Twitter, Instagram, and YouTube.
Source: Read Full Article