The food entrepreneur and TV host, 40, shares his day on a plate.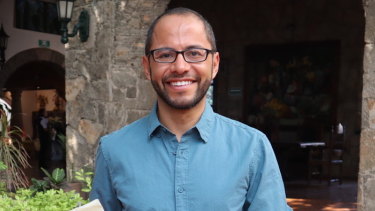 Gerardo Lopez.
5.45am I start the day with a hot cacao, the Mexican version of an energy drink. It's a few spoons of raw cacao powder whisked in water on the stove top with a pinch of morita chilli, though today I have cinnamon.
7.45am A plate of scrambled eggs, sliced avocado and homemade salsa wrapped up in a tortilla.
11am I snack on a muesli bar on the way to the gym. I'm training to climb Broad Peak in Pakistan.
12.30pm I dig in to two tacos – one with cactus and potatoes, the other with beans and mushrooms – plus a side of guacamole.
3.30pm I snack on a dark chocolate bar with nuts.
8pm Finally, dinner! I order the green mung bean curry with naan, relish and pickles (extra spicy). I try to avoid meat at night as it gives me nightmares.
Dr Joanna McMillan says …
Top marks for … Showing that a healthy diet doesn't have to be boring! Cacao
is rich in antioxidants, making it a great start to the day. And your plant-based meals and snacks are very nutritious.
If you keep eating like this you'll … Fuel your training nicely – your meals deliver
a good balance of carbs, protein and healthy fats. Be sure to add leafy greens
and fresh fruit to ensure you get a maximal array of vitamin C, which is easily destroyed in cooking, and antioxidants.
Why don't you try … Ditching the muesli bar, which is likely to be loaded with sugar, and opting for a mixed bag of nuts, seeds, dark chocolate pieces and fresh berries instead. Add fresh spinach to your tortilla and a side salad to dinner. Wholemeal roti is a better choice than the naan.
Gerardo Lopez is the co-founder of La Tortilleria, a wholesale food supplier and eatery, and host of This Is Mexico on Channel 10, airing this month.
This article appears in Sunday Life magazine within the Sun-Herald and the Sunday Age on sale December 1.
Source: Read Full Article