Itzamara was initially thought to have a cyst on her liver, but a closer examination revealed a partially developed twin with an umbilical cord attached to the baby's intestine.
(CEN/Los informantes)
WARNING: GRAPHIC PHOTO BELOW
An unusual case involving an infant who was born with another baby growing inside of her abdomen has gained international attention after the delivering doctor alerted a local television station, which documented the child's birth and subsequent surgery to remove her partially formed twin.
Dr. Miguel Parra-Saavedra, a high-risk specialist in Barranquilla, Colombia, told The New York Times that he first saw the mother, Monica Vega, when she was 35-weeks pregnant after her obstetrician suspected that her unborn child, named Itzamara, may have developed a liver cyst.
STUDY SUGGESTS THERE'S A 'SMELL TEST' FOR PARKINSON'S DISEASE
But Parra-Saavedra's equipment actually detected a fluid-filled space that contained a tiny, partially developed infant, and a separate umbilical cord that was connected to Itzamara's intestine, which was acting as its blood source. The rare phenomenon has been documented several times before and is classified as "fetus-in-fetu."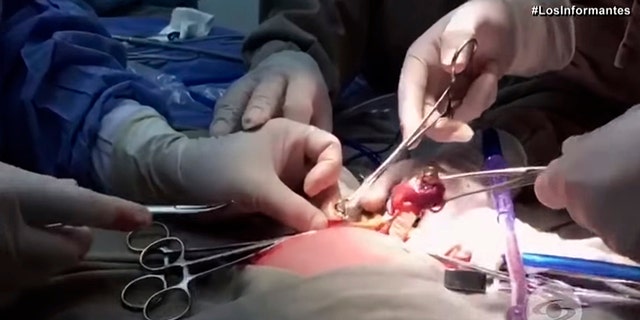 Itzamara's partially developed twin was removed laparoscopically from her abdomen a day after her birth.
(CEN/Los informantes)
The rare condition is a congenital anomaly in which a malformed, parasitic fetus is found in the body of its developing twin. Various fetal parts can be present like the vertebrae, with a varying number of developed limbs. According to the British Medical Journal, it is estimated to occur in 1 out of every 500,000 births, and is most commonly presented as a "mass in the abdomen," however it can occur in other parts of the body.
BRIDE WAS DIAGNOSED WITH CANCER DAYS BEFORE DREAM WEDDING
Researchers note that the occurrence is very similar to that of a teratoma, which is a type of embryonal tumor that typically forms from germ cells. Fetus-in-fetu does not undergo a malignant change more commonly seen with teratomas, and the latter would not have certain features such as a vertebral column, that can be found in a fetus-in-fetu case, according to the National Institutes of Health.
On Feb. 22, Vega gave birth to Itzamara at 37 weeks gestation via C-section, and surgeons removed the twin laparoscopically from her abdomen the following day. Parra-Saavedra told the New York Times that the twin had a head and developed limbs, but did not have a brain or heart.
CLICK HERE TO GET THE FOX NEWS APP
Parra-Saavedra said Itzamara is in good condition and is a "normal baby."
"I have never heard of anything like this in my entire life," Parra-Saavedra said of making the diagnosis. "I really did not expect this to happen."
Source: Read Full Article