ORLANDO, Florida ― Specialty pharmacists play a key and growing role in navigating the complexities of initiating disease-modifying therapies (DMTs) for multiple sclerosis (MS), resulting in earlier treatment, new data suggest.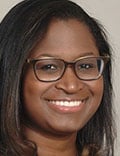 Dr Jenelle Hall Montgomery
"As DMT management and treatment options for MS symptoms become more complex, clinical pharmacists can be utilized for medication education and management," Jenelle Hall Montgomery, PharmD, of the Multiple Sclerosis and Neuroimmunology Division, Department of Neurology, Duke University Hospital, Durham, North Carolina, told delegates attending the Consortium of Multiple Sclerosis Centers (CMSC) 2021 Annual Meeting.
Since 2018, more than half a dozen DMTs have been approved for MS by the US Food and Drug Administration (FDA). However, there currently is no established DMT selection algorithm, and because of this, there is a need for specialty pharmacists, she added.
"DMT approvals by the FDA have outpaced MS guideline recommendations. This can be overwhelming for patients, especially now that they have so many options to choose from," she said.
Key services provided by specialty pharmacists include coordinating pretreatment requirements, as well as help with dosing, side effects, safety monitoring, and treatment adherence. In addition, pharmacists help with switching therapies, dispensing, and cost and authorization problems.
In reporting on improvements associated with specialty pharmacists, researchers from prominent MS centers around the country described specific outcomes.
Aids Early Intervention
A report on the Kaiser Permanente Washington (KPWA) MS Pharmacy Program detailed significant reductions in the time to address patients' needs through the use of specialty pharmacists.
In an assessment of 391 referrals to the program from 2019 to 2020, the average total time spent per patient per year dropped from 145 minutes in 2019 to 109 minutes in 2020.
Services included assessment of medication adherence, adverse drug reaction consultation, lab monitoring, patient counseling on initiation of a DMT, shared decision making, and follow-up visits.
"The KPWA MS Pharmacy Program plays an integral role in the care of patients with MS. The MS clinical pharmacists ensure patients are well informed about their DMT options and are fully educated about selected treatment," the investigators note.
A report on an outpatient MS clinic at Emory Healthcare, in Atlanta, Georgia, described how use of specialty pharmacist services resulted in a 49% reduction in time to treatment initiation with fingolimod. The time decreased from 83.9 days to 42.9 days following the introduction of specialty pharmacist services.
"Integration of a clinical pharmacy specialist in the therapeutic management of MS patients is crucial to early intervention with disease-modifying therapy," the investigators note.
A report on the specialty pharmacy services provided at Johns Hopkins MS Precision Medicine Center of Excellence, in Baltimore, Maryland, described an evaluation of 708 assessments between July 2019 and June 2020.
Results showed that the vast majority (98%) of patients reported no missed days from work or school due to MS-related symptoms and that 99.3% reported no hospitalizations due to MS relapses, which are both key measures of MS treatment adherence.
High Patient Satisfaction
Patients reported high satisfaction with the in-house pharmacy on the National Association of Specialty Pharmacy's patient satisfaction survey. In the survey, the average score was 82, compared with 79 for external specialty pharmacies.
"Moreover, patients were highly satisfied with the services provided at the pharmacy and were likely to continue receiving their comprehensive pharmacy care at our institution," the researchers report.
The study "highlights the value of pharmacists' involvement in patient care and supports the need for continuation of integrated clinical services in health system specialty pharmacy," the investigators note.
CMSC President Scott D. Newsome, DO, director of the Neurosciences Consultation and Infusion Center at Green Spring Station, Lutherville, Maryland, and associate professor of neurology at Johns Hopkins University School of Medicine, said that as a clinician, he is highly satisfied with the specialty pharmacy services for MS at Johns Hopkins.
"Our pharmacists are fantastic in communicating with the prescriber if something comes up or they are concerned that the patient isn't adhering to the medication," Newsome told Medscape Medical News.
He noted that in addition to helping to alleviate the burden of a myriad of tasks associated with prescribing for patients with MS, specialty pharmacists may have an important impact on outcomes, although more data are needed.
"Having the pharmacist can help move the needle forward essentially from day one with helping get the medication approved through insurance and shortening the time from writing the prescription to getting the person the drug [which is] is really important in MS," he said, "specially in relapsing onset MS, where many patients have highly active disease and we know they need to get on a therapy sooner than later."
Telemedicine, Other Models
Although integrated specialty pharmacist services may seem out of reach for smaller MS clinics, the use of telemedicine and other models may help achieve similar results.
"A model I have seen is having pharmacists split their time between a specialty pharmacy and the MS clinic," said Montgomery.
"A telemedicine model can also be utilized, in which a pharmacist can reach out to patients by telephone or through video visits. This would allow a pharmacist to be utilized for multiple clinics or as an MS specialist within a specialty pharmacy," she added.
Whether provided in house or through telemedicine, a key benefit for clinicians is in freeing up valuable time, which has a domino effect in improving quality all around.
"In addition to improving safety outcomes, specialty pharmacists help with the allocation of clinic staff to other clinic responsibilities, and the utilization of services by patients results in more resources allocated for their care," Montgomery said.
Montgomery is a nonpromotional speaker for Novartis and is on its advisory board.
Consortium of Multiple Sclerosis Centers (CMSC) 2021 Annual Meeting: Abstracts PGM10, QOL31, and MDC10. Presented October 26, 2021.
For more Medscape Neurology news, join us on Facebook and Twitter.
Source: Read Full Article