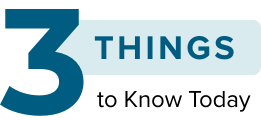 Unvaccinated Individuals Hospitalized 10 Times More for COVID-19
Vaccinated and boosted people were as much as 10.5 times less likely to be hospitalized with the Omicron BA.1 variant of COVID-19 than were unvaccinated people, the CDC reported.
The CDC released results of a large study covering almost 200,000 COVID-19–associated hospitalizations across 13 states from January 1, 2021 to April 30, 2022.
During the height of the Delta variant, unvaccinated people were 12.2 times more likely to be hospitalized for Delta than were vaccinated people, with or without a booster.
Boosters mattered: People with a booster dose were 2.5 times less likely to be hospitalized for Omicron BA.1 than were people who got vaccinated but skipped the booster.
Vaccinated patients were older/sicker: Vaccinated hospitalized patients were, on average, significantly older than unvaccinated hospitalized patients and were significantly more likely to have three or more underlying medical conditions.

Corporate Deals Threaten Primary Care
CVS, Amazon, and other corporations are taking over primary care, home care, and value-based care companies, calling into question the viability of primary care practices.
The acquisitions are aimed at raising the role of technology to make healthcare more efficient, consumer-friendly, and profitable — but critics worry that will come at the cost of the human touch required in chronic and especially end-of-life care.
Amazon is acquiring One Medical, a concierge primary care company, and CVS is buying Signify Health, a provider of technology-enabled in-home services.
Follow the money: The deals are meant to improve the profitability of primary health care — but "the payoff to [owning] primary care comes from its ability to influence hospital and specialty services," said Dr David Blumenthal, president of the Commonwealth Fund.
Serving the rich: Concierge or "advance" primary care is aimed at paying customers who are frustrated with the difficulty of obtaining medical services. But that could reduce access for people who can't afford the fees.

Can Psilocybin Ease Dying?
"Magic" mushrooms containing psilocybin can ease depression and end-of-life distress in terminal patients, according to recent research.
One study looked at 30 patients with advanced cancer who received a single dose of psilocybin along with group therapy. Eight weeks later, 80% experienced a 50-plus percentage drop in depression.
One big problem: Unfortunately, psylocibin is mostly illegal in the United States. To obtain it, patients need to be in a clinical trial or travel to places where they can get it, such as the Netherlands or Jamaica.
Hope on the horizon: More cities, states, and countries are considering decriminalizing or legalizing psychedelics such as psylocibin.
For more news, follow Medscape on Facebook , Twitter , Instagram , and YouTube
For more news, follow Medscape on Facebook, Twitter, Instagram, and YouTube
Source: Read Full Article