By the end of this year, all physicians, nurse practitioners, and physician assistants in Vermont will have access to a database that may be able to keep the state ahead of future pandemics.
The state is hoping to strengthen the communication between clinicians and public health authorities so the health department knows quickly when unusual presentations start to be seen in exam rooms.
Likewise, when public health officials want to alert clinicians to a pattern, the information will come right to phones or other devices clinicians carry with them.
The augmented intelligence tool, VisualDx, also offers decision support with to help narrow a diagnosis through automated questions and pictures gathered all over the world over decades.
VisualDx can be downloaded from both the Android and Apple app stores, and it's available to anyone with a subscription for $39.99 monthly or $400 annually. The Vermont Department of Health is making it available to all physicians, NPs, PAs, medical students, and residents at no cost.
Advancing Equity
Vermont Health Commissioner Mark Levine, MD, told Medscape Medical News that some of the large hospital systems in the state were already using VisualDx, but Vermont is heavily rural with a large number of independent physicians and small practices. Nationwide, the entire Veterans Health Administration has used VisualDx for more than a decade, the company reports.
The tool will help broaden healthcare equity as clinicians will have the same access to decision support no matter their practice model or location, he said.
Medical students and residents will also have access, so the tool will have a teaching function as well, Levine said.
The state plans to monitor how the support system, currently funded by grants, is being used, including how many clinicians are using it and for what purposes.
Levine said he hopes Vermont plan "can be a model for the nation."
"Though we've just been through a 'once-in-a-century' pandemic, the next one is not a century away," he said. "Having public health and clinical medicine joined at the hip to a much greater degree will become more and more important."
View From a Rural Hospital
Christina Harlow, DNP, who works in emergency department of the federally qualified Gifford Medical Center in Randolph, Vermont, said the database will help rural hospitals like hers, which is rolling out access to the database this week.
Up until now, she said, she might confer with one of a few other emergency clinicians in the area to get an opinion in an unusual case, consult a rash book, or research a condition online. She likes the immediacy of VisualDx.
With this app she can take a picture of an unusual rash at the bedside, for instance, and the app will ask questions based on the image and narrow down possible diagnoses.
The app also shows pictures of how the rash looks on different skin colors and on people of different ages.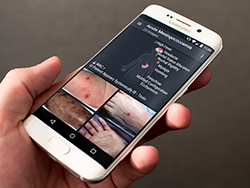 The VisualDx app illustrates what a rash looks like on different skin types.
She said it will be particularly helpful with Lyme disease, which is endemic to the area. While most clinicians could diagnose a typical "bullseye" rash, she said, other less common presentations of the disease might be harder to identify. The app can give the latest guidance from the CDC and rapidly help with a treatment protocol.
The app also tells what the best test should be to avoid multiple tests and where to report it.
"It will help us practice much better clinical medicine," Harlow said.
Filling Gaps in Skin Knowledge
Art Papier, MD, a dermatologist and informaticist who is co-founder and CEO of VisualDx, told Medscape Medical News the decision support helps fill gaps as primary care and emergency physicians are typically undertrained in the physical examination of the skin.
He noted that with COVID-19 and monkeypox, symptoms are highly varied and change over time. Most clinicians have not seen a presentation of monkeypox.
He added, "This outbreak of monkeypox doesn't look like the outbreak we had in 2003. The lesions can be much smaller. That makes it a challenge to diagnose infectious disease."
He pointed to the spread of anthrax from mailed letters two decades ago. Some people affected presented to hospitals with cough; others had skin lesions.
The database makes it possible to search under any kind of presentation and narrow the options, which could help in a similar scenario, Papier said.
"Our work in this Vermont project is to prepare busy clinicians for anything," he said.
The organization has been collecting images of diseases for 25 years, Papier said, adding, "We're building the world's best professional medical image collection."
At the next level of this tool, Papier says, the analytics will be able to show what clinicians are searching for to capture emerging disease trends in real time.
"We'll be able to see if there are any early signs of changes from baseline," he said.
Levine and Harlow report no relevant financial relationships. Papier is co-founder and CEO of VisualDx.
Marcia Frellick is a freelance journalist based in Chicago. She has previously written for the Chicago Tribune, Science News, and Nurse.com, and was an editor at the Chicago Sun-Times, the Cincinnati Enquirer, and the St. Cloud (Minnesota) Times. Follow her on Twitter at @mfrellick
For more news, follow Medscape on Facebook, Twitter, Instagram, YouTube, and LinkedIn
Source: Read Full Article