Vanessa Hudgens swears by SoulCycle with her friends. Anna Victoria says her dog Rigatoni is her go-to gym companion (so cute!). Gabrielle Union's workout buddy? Dwyane Wade (obvi).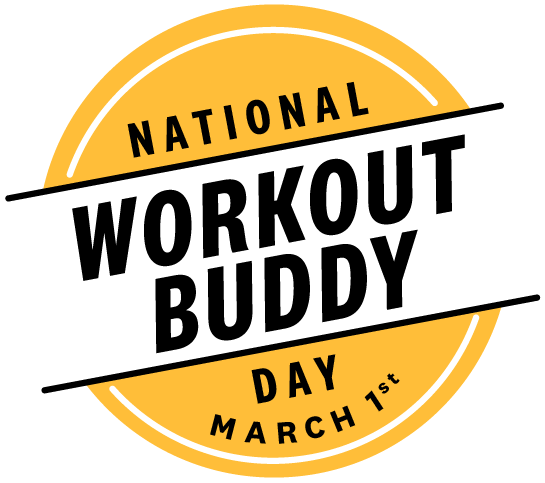 Jewelyn Butron
Whether your workout buddy is a coworker you log early a.m. miles with or the new pal you met at barre, get ready to celebrate them in the most epic way: Women's Health is ringing in our third annual #NationalWorkoutBuddyDay on Friday, March 1, 2020!
Here's how you can celebrate with the WH team this time around:
Post with #NationalWorkoutBuddyDay
On Instagram, @womenshealthmag will be all about celebrating workout buddies—All. Day. Long. To get in on the action, post a pic with your workout buddy using the hashtag #NationalWorkoutBuddyDay (kind of like you'd post a pic of you and your bro on #NationalSiblingsDay). If you tag @womenshealthmag, your pic may be featured on WH's Instagram Stories that day!
Last year even Ashley Graham got in on the action:
https://www.instagram.com/p/Bue1PxsAYJj/
Sweat with the ultimate workout buddies
Tone It Up founders Karena Dawn and Katrina Scott are this year's official #NationalWorkoutBuddyDay ambassadors, because duh! To celebrate, we'll be live streaming a buddy workout with Karena and Katrina themselves on our Instagram Live on Wednesday, February 26 at 1 p.m. ET/10 a.m. PT. We'll also be posting exclusive workouts with them all week long on @womenshealthmag's Instagram page and on WomensHealthMag.com. Share 'em with your buddy so you have your workout set for March 1—and don't forget the cute selfie afterwards!
Get a free trial of Gympass
Women's Health partnered up with Gympass, a corporate wellness benefit plan, to give you a free trial of their workouts on March 1. Watch this space for all the details on how to get set up.
Grab your fave workout buddy and get ready to sweat!
Source: Read Full Article