Growing up, I really liked Gaston from Beauty and the Beast. I mean, I really liked Gaston, in a way that was difficult for a seven-year-old to understand. I knew he was the villain, but I kept rooting for him anyway. I didn't understand why Belle refused to be with him; as Gaston made abundantly clear through both song and dance, there was no one like him.
I loved his jawline leading to his cleft chin and his pearly-white smile. I wanted to swing from his football-sized biceps and nap on every last inch of him covered in hair. Also, the way those leggings (or whatever they were) tightly hugged his thighs—yes ma'am! I noticed that watching him, my pants would always get a little tighter, too.
Looking back on it, Gaston sparked the very beginning of my queer sexual awakening and my affinity for douchey, hyper-masculine men. (That's right Disney, I'm blaming YOU for my desire to have sex with meatheads and fuccbois.)
Like me and Gaston, many queer men have their own stories where something or someone, often in pop culture, helped them realize: "Oh, shit… I'm definitely different from the other boys."
In honor of Pride Month, I spoke to 10 different queer men of all ages to learn what, or who, in pop culture gave them that "aha" moment.
Tim, 45: Burt Reynolds in Cosmo
"It was 1982 and I was eight years old. I found my mom's Cosmo even though it was well hidden. I was raised a Jehovah's Witness and this type of reading material was worldly and deemed bad. I was so excited to find it! I opened it and saw the hairiest man naked laying on a bearskin rug: Burt Reynolds. I will never forget how flushed I got and knew at that moment that I was attracted to men."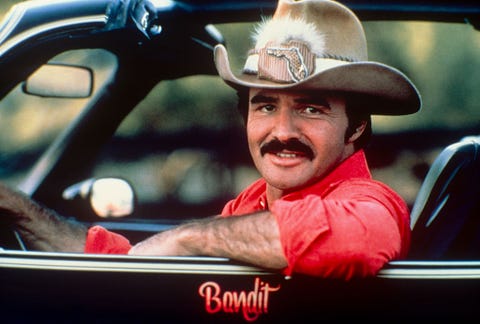 Burt Reynolds.

Art ZelinGetty Images
Jake, 27: Gerard Butler in Tomb Raider 2

"When I saw Gerard Butler in Tomb Raider. I must have been 12 years old. I realize now I was fully, fully in love with him as a young teenager in a way my self-preserving brain wasn't ready to think about. I avoided his movies; I avoided talking about him, and I have a distinct memory of quickly turning the page of a gossip mag when I realized it had his infamous wet swim trunks picture in it.

It wasn't until I was out at around 20 that I realized what I was doing. Luckily, I also realized I was over him and celebrated by watching 300 for the first time."

Terence, 38: He-Man

"I was probably six or seven, but whenever He-Man came on, I lit up, and I felt a strong attraction. Also, even though I didn't really know what drag was like at the time, I think He-Man was a form of drag. Here you have the sexy, effeminate Prince Adam who then transforms into his alter ego clad in a harness and loincloth, wielding a massive sword. What could be sexier?!"

Adam, 56: Jim Palmer in Jockey ads; Richard Gere in American Gigolo

"It was 1976, and I was 13. The Sunday newspapers were filled with lots of ads and supplements. Baseball player Jim Palmer made history when he appeared in his briefs (for Jockey). Let's just say I saved that paper and "referred" to it a lot. In 1980 when I was 17, I heard that Richard Gere showed full-on peen in American Gigolo, so I saw that movie opening night."

William, 21: Zac Efron in High School Musical

"I was eight years old and was obsessed with Zach Efron as Troy Bolton in High School Musical. I felt very confused and absolutely terrified immediately about what people would think of me if I told them I had crushes on both boys and girls. It took me until 2018—I was 19—to come out as bisexual to my amazingly supportive girlfriend and several others. I have never regretted it and and am learning to wave my bi flag proudly!"

Victor, 28: The boys of Bring It On

"Back in elementary school, I watched Bring It On. While I expected to see some 'inappropriate' scenes, what I did not expect was a queer awakening of sorts, by way of an inexplicable attraction to Les and Jan. My interest in men had been piqued in passing by shirtless bodybuilders on daytime talkshows or when lingering in the underwear aisle, but never in association with an identifiable character."

Fwee, 32: Mighty Morphin Power Rangers

"When I was 5, a new show called Mighty Morphin Power Rangers came out. At first I thought I had a crush on Kimberly, the pink ranger, but I realized later that I just wanted to be like her. It wasn't until I saw Jason, the red ranger, in his tank tops, working out shirtless when I realized that's what I wanted. I was enamored by his pecs and muscles and that's when I realized I was gay."

Kevin, 30: Mighty Morphin Power Rangers

"As a kid, I was caught up in the phenomenon of the Mighty Morphin Power Rangers. With their cool outfits and martial moves, they were all the hype. One day, at around age 8, I was watching Power Rangers as normal when I began to notice more than their cool uniforms. My favorites, Jason (red ranger) and Zach (black ranger) were practicing martial arts with Tommy (green ranger). Suddenly, I started to notice their bulging biceps, pecs, and other things… I was entranced, excited, and confused. At that time, I didn't know what those feelings meant and it wouldn't be until late high school that I realized that those feeling were all part of my developing gay identity."

Nick, 29: Leonardio DiCaprio in Titanic

"For most young boys of the '90s, seeing Titanic was a rite of passage. Seeing Katie Winslet laying on an ornate couch completely nude was something everyone couldn't stop talking about. I, however, barely noticed her. All I could see, and think about afterward, was a young Leonardo DiCaprio flipping his hair to reveal his gorgeous face and perfect eyes. At only 8 or 9 years old, that's when I realized I wasn't like the other boys, even if at the time I didn't realize that Leo's hair flip would be just the 'tip of the iceberg.'"

Leonardo DiCaprio and Kate Winslet in Titanic.

Archive PhotosGetty Images

Rafael, 32: Will in Will & Grace; Dougray Scott in Ever After; No Se Lo Digas a Nadie

"It was 1999 and I was 12, studying in Peru in a Catholic all-boys school. I wasn't interested in playing soccer or going to the dances with the girls, but thanks to pop culture, I had some realizations about being gay.

The first was from Will & Grace. I wanted so badly to be Will—and to be openly gay, successful, and have a nice apartment. Then, was the movie Ever After. I could not stop watching Dougray Scott's bulge every time he was in those riding tights. Also, in 1999, I saw this Peruvian film No Se Lo Digas a Nadie (Don't Tell Anybody), which was about gay life in Lima. It had kissing and sex, and I remember sneaking into the theater to watch it. All of this at a time when puberty was beginning and my hormones were going wild."

Source: Read Full Article